Message from the Head of School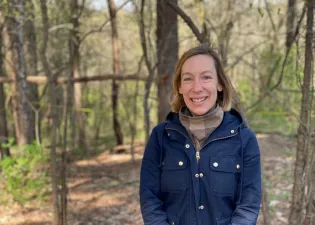 Dear Parker Community,
I first arrived at Parker in 2011 as a parent with my five-year-old in tow, and I was immediately welcomed by the school's inviting atmosphere and its beautiful natural setting. Having taught in progressive schools in NYC for five years, I was looking for a school that was deeply committed to teaching the whole child. I was immediately drawn in by Parker's warm and welcoming community of teachers, administrators, students, and families. I knew this was a place that nurtured children's sense of agency, celebrated student voices, focused on meaningful learning, and honored positive risk-taking and diverse ways of learning and being. As both a parent and education professional, I felt like I had found a home school at Parker. I never looked back.
I quickly became involved as a parent volunteer, and I made it clear that I would love to teach if opportunity presented. I became a classroom teacher in 2012 and found myself in a community of like-minded colleagues – professionals who value their ability to inspire students to ask questions, approach ideas from new angles, and find ways to reflect on and express what they have learned. Our students' development, interests, and sense of selves give life to our curriculums as they take shape within each classroom. Our graduates leave Parker having each been truly known as a student and a person. My teaching career at Parker was deeply rewarding and allowed me to develop meaningful connections with my students and their families that I treasure to this day. Parker's connected and vibrant community is one of its greatest strengths.
In my role as Head of School, I am encouraged and bolstered by the school's commitment to child-centered learning, our passionate faculty, and dedicated staff and board. I am especially inspired by our students who, alongside their teachers, peers, and families, continue to grow, explore, strive for justice, and care for one another through these extraordinary times. I look forward to adding to the legacy Parker has built over the past thirty years, and to establishing its position as being amongst the most responsive, innovative, and sought-after schools in the capital region.
Parker is a school that treasures childhood. Our supportive and nurturing environment lays the foundation for our students to become original thinkers, engaged citizens, and lifelong stewards of their communities and our earth. As we continue to build on and honor our strong foundations, we also maintain a focus on our strategic plan, Diversity, Equity, and Inclusion (DEI) work, and of course, keeping children and the Parker School mission at the center of all that we do.
I am grateful and honored to be a part of the Parker School, along with the many families, staff, and children who make this place so special. Whether you are a current family, alumni, current or former staff member, or community member just getting to know us - I welcome the opportunity to connect with each and every one of you.
Warmly,
Jennifer Gresens
Head of School