Toddler & Parent Forest Program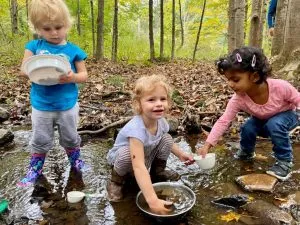 The fully outdoor program is based on Parker's progressive philosophy & mission and is simple by design. Led by our lower school science teacher, Leiana Hawkins, children will be allowed to explore woods, streams, and meadows and let their curiosity be our guide. Our routines will include a group gathering time, a short walk to our dedicated outdoor classroom space, and time to explore a variety of ecosystems on campus.
Class Details
Ages: 18 months to 3 years (able to walk independently over uneven terrain)
Time: 10am to 11:30am
Dates: Fall, Winter, Spring Sessions
Program Tuition: $150 for each 5 week session ($120 for the 4 week sessions
Meet our Facilitator, Leiana Hawkins
There was no question that the right teacher to pioneer this new program was our talented and much-loved lower school science teacher, Leiana Hawkins. Get to know Leiana...
Note: per C.D.C. guidelines, masks are now optional in the outdoors.